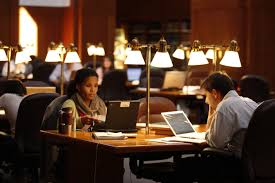 341 young professionals have taken advantage of Tuition Reimbursement over the last three years, says Eileen Krar, Senior Health and Welfare Planner at Yale. FLY's first Advocacy Topics Discussion on February 16 was about Yale's Tuition Support Programs, where Eileen spoke to a group of FLY members.
Auditing any class at Yale has always been an option to staff – but audited classes are not credited and cannot count towards a higher degree. When applying for higher-level jobs, many employees need a higher degree to be eligible. Tuition reimbursement and reduction are available to Yale staff members who are seeking a degree.
Yale also has a new partnership with University of New Haven. Starting this year, employees can receive a 20% discount on graduate degree courses there. This partnership with UNH doesn't have to be unique, if there is a program you are interested in, ask if a discount partnership can be discussed between that school and Yale. The following are some of the top schools that young professionals have attended using tuition benefits:
Southern Connecticut State University
University of New Haven
Albertus Magnus
Quinnipiac University
Courses offered at all eligible U.S. colleges are covered under this program except courses offered in the Tuition Reduction program.
Employees who have used the program[1] are most satisfied with how much the reimbursement covers, and that there is a longer-than-average amount of time that employees have to submit claims. Additionally, not many tuition benefit programs cover PhD-level classes, making this one of the most comprehensive benefits of its kind. In many cases, as well, this coverage extends to courses that are not related to the employee's current job, making it easier for that employee to work towards their next career.
The top three criticisms the program has received are the requirement to itemize each class for reimbursement paperwork; the length of time it takes for monthly-paid employees to receive reimbursement; and the press on end-of-year processing.
When asked if it was possible to submit a letter of deferment, so that payment for the course can be submitted with the reimbursement check, Eileen advised that that would be up to the individual school to decide. She offered a personal anecdote about "floating" – budgeting to pay for the first course in the program, and using the reimbursement from that course to pay for the next, and so on until the degree has been achieved
Professional Development and Career Advancement are major tenets of FLY's mission as the Affinity Group for young professionals at Yale. If you need help finding the words with your supervisor to advocate for your continued education, please write to fly@yale.edu for support! Members are invited to attend the next two discussions on Paid Family Leave and Available (March 9) and Affordable Childcare (April 13). A survey will go out to all FLY members later in the spring to collect more information about what FLY should be advocating for to the University for young professionals.
---
[1] Tuition reimbursement for all employees is set to a statutory IRS maximum of $5,250 per calendar year. Faculty are not eligible for this benefit. M&P employees may apply for the full reimbursement amount within a calendar year regardless of how long they have been at Yale. As negotiated with the Local Unions, C&T and S&M employees have some restrictions on amount they can be reimbursed based on how long they have been at Yale. The new union contract ratified in January – which will not be up for negotiation again for 5 years – has not yet been made public, but FLY did share their priorities for advocacy topics with union leadership prior to the ratification.
Reimbursement would be paid after the employee has successfully completed a course of study in the pursuit of a degree – substantiated with a grade of "C" or higher, or with a "P" in a pass/fail class. Certifications and non-degree courses are not covered by this program, and should, instead, be negotiated as professional development with the employee's department. As of this year, the reimbursement program can also apply to courses at Yale. Previously, only a 50% reduction in tuition was available to a limited number of programs. This new reimbursement coverage only applies to courses not covered by the reduction.