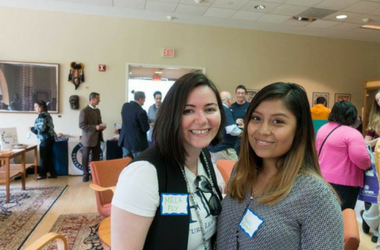 New employees gathered for a networking event on Tuesday, May 23rd at Luce Hall for the 3rd annual New Hire Affinity Group Event sponsored by the eight affinity groups on campus. New employees were encouraged to network with each other but also with each affinity group and they had the chance to win a raffle prize for participating in the networking activity.
The event was well attended with 40+ employees participating and 50+ volunteers from each Affinity group in attendance. Representatives were also on hand from the Yale WorkLife Program, HR Staffing Office, Yale Toastmasters, TIAA, and UNH Graduate Programs to discuss the benefits of their respective programs.
There was a lot of positive energy in the room with many new employees and volunteers commenting on enjoying the casual nature of the event and learning something new about what the University has to offer. Three lucky attendees walked away with a gift card to local New Haven eateries for participating in the event. Check out the photos on our Facebook page!
New employees share their experiences:
I've enjoyed the event and not only because I won something.  It was great to get to know people from each affinity group (and new employees) and absolutely awesome to have the raffle as a way to "force" us to really go and connect. Anyone who has even a little competitive edge will do it!
 

-  Jana Buck, Assistant Director, Academic and Student Affairs, EMBA – School of Management, hired on 2/01/2017
It was a great event. I was there as a volunteer for FLY and as a new employee. I liked being able to network with the other new employees and also learn more about the different groups and what types of opportunities they offered. I am glad the University provides the Affinity groups as a resource to its employees.
 

-   Nick Barone, Candidate Development Specialist – Human Resources Staffing Office, hired on 3/06/2017
It was a great event. I loved speaking with all the representatives there – very informative. Just well done and thanks!
 

-  Charlyn Paradis, Development Program Coordinator, Development and Alumnae/i Affairs – School of Nursing, hired on 11/28/2016
I enjoyed attending the New Hire event, it was a great way to meet new folks from the Yale Community and also to learn about other affinity and organizations among Yale. This event is a great way to bring everyone together and I look forward to attending the next one.
 

-  Alejandra J Rodriguez, Web Producer, Campus Community Technologies – ITS, hired on 5/31/2016
As a new employee, it's a great event to participate in. It's a way to network and meet people, learn about different resources Yale offers its employees, and genuinely feel welcome at the university. The affinity groups illustrate Yale's culture of an inclusive and diverse workforce.
 

-  Patrick O'Sullivan, Senior Administrative Assistant – Human Resources Staffing Office , hired on 3/20/2017
Written by Celestina Perone, Recruiter in Human Resources