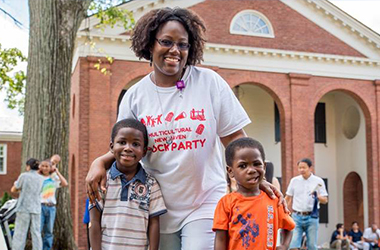 On April 13, we opened up our FLY monthly meeting to young professionals from different parts of the university to learn and discuss the topic of child care. Affordable and more accessible child care is the third topic of advocacy for Future Leaders of Yale affinity group based on a survey conducted when FLY was created three years ago. 
Susan Abramson led a presentation about child care options and key points to consider when starting to make decisions on the care for young children. Susan is the manager of Work Life Program & Child Care Resource at the Office of Diversity and Inclusion. She joined Yale in 1996, when she worked for the Child Study Center. In her current role in HR, she conducts group information sessions and meets with parents individually to guide them through the many aspects of child care. Susan is also available for one-on-one in person and/or phone meetings with parents and parents-to-be to explore and discuss child care. She noted that the spouse or partner can reach out to her directly. It does not need to be the employee.
Yale-Affiliated Child Care Centers
Susan covered briefly the on-site Yale child care centers, which are independently run and a few were opened as far back as the 1960's and 1970's. There are seven centers at Yale, six of which are in New Haven and one at Yale West Campus. The price structure varies for each Yale-affiliated center. However, their availability and priority enrollment differ. In addition, there is the very popular Yale Babysitting Service (www.yale.edu/babysitting) with Yale student babysitting service. Yale also subsidizes emergency back-up care (www.yale.edu/backupcare).
Types of Child Care
There are three main types of child care that parents consider to care for their young ones:
Licensed Day Care Center
Licensed Family Day Care Home
Nanny, babysitter, au-pair (formal/informal)
The licensed day care centers on-site and off-site are licensed by the Office of Early Childhood of the State of Connecticut. The state ratio is 1:4 for under 3 years old, and 1:10 for 3-5 years old, but many centers in Greater New Haven, have a better ratio than required by the state.
The licensed family day care homes can be a preferred option for families that value more flexible hour arrangements. They can't have more that 2 children under 2 years old. They tend to be less expensive than child care centers.
Nannies, babysitter, and au-pair (formal/informal) are another option for care.  Magellan Health Services are available to assist parents with nanny types of caregivers. Cultural Care Au Pair offers an introductory discount for Yale families that want to hire an au-pair. 
The WorkLife Program publishes the Yale Child Care Directory annually and it provides updated information about child care centers in Greater New Haven, and includes indexes by town and ages served. Information on resources and activates for families is also included.
When do you start looking for child care?
Figuring out what date you want child care to start and what age the child would be at that time. That will narrow down a lot of choices. When the baby is here, keep an open mind. Centers give preference to the current families that they are servicing and then to new families that would like to join. So, they may not know if they will have spots available at the time you need child care to start.
Susan said to the young professionals in the room "Parents have choices. They may end up on the waiting list, and sometimes they may not be able to get their first choice for their family." Centers outside of New Haven don't have such long waiting lists. You will find there is less options of child care for children under 3. Listen to your parental gut instinct when you visit.
Cost, Hours, Location, Philosophy of Child Care
In 1960, the cost of child care was less than 5% of a family's income. In 2013, the cost of child care was up over 20% of a family's income. The reason for the rise of cost is additional licensing and regulations of centers. Even though this is seen as a low wage profession, early childhood professionals have higher education degrees and look for benefits to support their own families as well. Personnel and administration costs have increased overtime for day care centers. It's important to consider all options from a financial perspective. As several questions during our session focused on cost, Susan encouraged us to not be afraid to ask for a discount. KinderCare in New Haven offers a 10% discount to Yale employees.
Amber, a young professional in the audience, asked how often and how much do centers increase their rates? Susan replied: "Typically the tuition rises about 2-4% annually." Yale employees can use Yale's flexible spending benefits through pre-tax payroll deductions for their child care expenses. This amount can be up to $5000 per year. Remember, that having new child qualified as a new life changing event, which allows employees to change their benefits selections within 30 days of having a child through birth or adoption.
Susan reminds us to also consider hours, location and center's philosophy as well. Are they more academic or play focused? What would work best for your child? What aligns with your family's philosophy? What hours work for your family's schedule and what location is best? Are you looking for something near home or near work? Who would be your emergency care pickup? After visiting different centers, you may find it helpful to speak with other parents. You may ask the Day Care Center, Family Day Care Home, Nanny, Babysitter or Au Pair for references, so you can ask other parents about their experience. The WorkLife program is working on getting an updated list of Yale parents as well.
As you take in all the information and resources above, listen to your "parental gut" and consider starting out with these first steps:
1.     Gather information by making connections with the Yale WorkLife Program Child Care Resources (www.yale.edu/child care), other Yale parents, and visit licensed Day Care Center and Family Day Care Homes.
2.     Think of a budget, take advantage of the flexible spending account, and financial consultation available from Magellan, Yale's Counseling and Support Services, if needed.
3.     What type of care and cost of care are you looking for and when do you want it to begin?
4.     Where do you want the care to be? What hours would work for your family? Who will be the emergency pick-up from child care?