Courtney McCarroll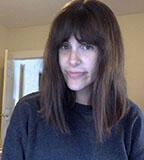 FLY: Tell me about your current role at Yale University:
I'm a staff writer on the marketing and communications team for Yale's Office of Development. My colleagues and I help tell the stories about Yale that inspire alumni, parents, and friends of the university to support exceptional students, groundbreaking research, singular faculty, and the initiatives that harness the power to transform our world for the better. Stories about undergraduates feeling compelled to protect the planet from climate change's impending effects, the cross-disciplinary studies that put Yale on the map in the fight against COVID-19, and how the recent gift to make Yale's drama school tuition-free will change students' lives forever. And now, with the launch of Yale's fundraising campaign, For Humanity, I'm looking forward to the near-limitless ways in which we can help donors have an impact on so many at Yale and beyond.
FLY: How did you begin your career?
Before I came to Yale, I was knee-deep in books. (OK, I still am!) What I mean by that is that I used to do events, marketing, and communications work for R.J. Julia Booksellers in Madison before going on to do editorial work at Oxford University Press. Somewhere in between, I was freelance writing. I have to be honest: working in development has been a big surprise. But now that I've been in this role for nearly four years, the parallels between academic publishing and academic fundraising are crystal clear: through relationship-building, together, we work towards building a more informed, engaged, and compassionate world.
FLY: What skills, abilities, and personal attributes are essential to success in your job?
Because my team covers every corner of this campus, I think curiosity is essential. It never ceases to amaze me how many incredible things are going on at Yale at any given time. How can you not feel inspired to be part of that—to share that with the outside world and spread that enthusiasm? As a writer, it's my job to spin a good sentence, sure, but it's imperative for me that all my interviewees—whether they're students, staff, or faculty—feel as though they're being heard. Integrity and trust, therefore, are just as critical.
FLY: How does working for Yale compare to previous institutions at which you've worked?
When you're a writer for Yale, it's impossible not to feel the gravity of that responsibility. It's on you to do your due diligence and ensure accuracy across the board. But with that responsibility comes the inspiration to push yourself to do better, try harder, and dream just a little bit bigger. That inspiration isn't limited to Yale students and faculty—as a staff person, that belongs to you, too.
FLY: What non-work-related aspect have you enjoyed most about the Yale community?
So many of my colleagues and FLY compatriots have become some of my most cherished friends. There are so many exceptional people here who think nothing to go out of their way to lend a hand, make me laugh, and support me every step of the way. Getting to know and work with these individuals is such a tremendous privilege, and they make me a better and more thoughtful coworker as a result.
FLY: What changes have been made to your work since COVID-19 started to impact Yale?
Beyond a hybrid working environment, I think we have all become more compassionate and understanding of one another and the circumstances we face. If someone is struggling, my colleagues—and my manager, in particular—are creating an environment that gives the individual the space and grace to work through it. Empathy is the most important thing to me, and it's heartening to see this employed on my team.