Haley Sabitus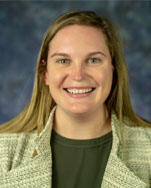 FLY: Tell me about your current role at Yale University:
Haley: I started at Yale in January 2020 and serve as an Assistant Director of Leadership Giving in Yale's Central Office of Development. As a development officer for Yale, I strive to build relationships with alumni of Yale College, specifically those in Northern California and the Pacific Northwest. I help to further connect alumni with their alma mater and facilitate meaningful gifts to the university.
FLY: How did you begin your career?
Haley: My junior year of college I served as a development and marketing intern for a non-profit in my college town, Centre Volunteers in Medicine. Through that opportunity, I learned of a career path where I could employ my strongest skills (communication, empathy, relationship building) while also helping to make a difference. From there, I was selected to participate in Penn State's development and alumni relations internship program and learned about fundraising and stewardship in higher education. After graduation, I joined Penn State's development team as an Assistant Director of Annual Leadership Gifts and then as an Assistant Director of Development for Penn State's Smeal College of Business before coming to Yale. 
FLY: What skills, abilities, and personal attributes are essential to success in your job?
Haley: To be successful as a fundraiser, I personally believe active listening, curiosity, and empathy are some of the most important attributes. In such a relationship focused role, fundraisers must be able to connect with a diverse group of people and communicate effectively, while also being authentic. Fundraisers need to be comfortable with rejection and be patiently persistent.
FLY: How does working for Yale compare to previous institutions at which you've worked?
Haley: It is incredible to think of the impact Yale has globally and how the gifts that are raised by me and my colleagues can help to truly make the world better. On an individual level, I also appreciate the opportunities for development both personally and professionally. Trainings like Frontline Fridays are one of my favorite parts of Yale, they are tailored towards donor-facing fundraisers and allow me to brainstorm with colleagues and think more strategically. The networking and leadership opportunities with affinity groups like FLY and WWN outside of my unit also make Yale stand out.
FLY: What non-work-related aspect have you enjoyed most about the Yale community?
Haley: Unfortunately, I have not been able to take as much advantage of being part of the Yale community as I originally hoped due to COVID-19. Once we are back on campus I hope to be able to enjoy Yale's incredible collections, speakers, and performances.  
FLY: What changes have been made to your work since COVID-19 started to impact Yale?
Haley: COVID-19 has fundamentally changed the way fundraisers work. In pre-COVID times, my role meant that I would be traveling to California and/or the Pacific Northwest for about a week a month to meet with alumni face-to-face. Obviously, travel has not been possible since March 2020, so we have pivoted to having more gift conversations via email, phone, and Zoom. Not being able to meet in person has added to the normal challenges of fundraising. There have been some positives- this time has helped me to become more adaptable and strategic in my outreach and engagement and I have been able to grow closer with my colleagues even in a virtual landscape.