Marilyn Serna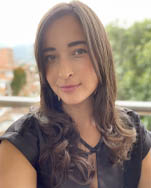 FLY: Tell me about your current role at Yale University:
Marilyn Serna: Currently, I am a senior administrative assistant at the Law School, and I work with five faculty, including former Dean Robert Post. I started my position right before the pandemic on January 25, 2020.
FLY: How did you begin your career?
Marilyn Serna: I obtained my bachelor's degree in International Business at Quinnipiac University in 2014. I worked at a marketing research company where I answered and screened incoming calls, addressed customer inquiries, identified problems related to research studies, and developed long-term solutions. I also assisted with different businesses processes.
About four years ago I started at Yale University as a casual at the School of Management at the Executive Education department where I obtained event planning experience. Upon the completion of my casual employment, I obtained a permanent job at Maternal Fetal Medicine as an administrative assistant where I worked for two years and a half. I am currently working to become a professional nutritionist through my graduate school work. Upon completion of my degree and passing board certification I hope to work combining natural and western approaches to nutrition.
FLY: What skills, abilities, and personal attributes are essential to success in your job?
Marilyn Serna: I would say that being personable, organized, analytical and a team player are key personality attributes for this job. You also need to be able to shift from one task to the next, knowing how to prioritize, while also being attentive to detail. For this role it is also important to have great computer skills, such as proficiency in Word, PowerPoint, Excel, and Adobe. Lastly, having a thorough understanding of how to process expenses in Workday is key, because most of the expenses are complex given all the different charge of accounts that are involved in the process.
FLY: How does working for Yale compare to previous institutions at which you've worked?
Marilyn Serna: Working at Yale has been a blessing because Yale highly invests in their employees. The opportunities to learn and grow are endless. I also feel a sense of community that I did not feel anywhere else, and that is super important to me. I strongly believe that advancement comes from learning which opportunities to grab on to and explore, and Yale is a place that fosters both personal and professional development.
FLY: What non-work-related aspect have you enjoyed most about the Yale community?
Marilyn Serna: By far my favorite non-work-related aspect about Yale's community has been Yale's affinity groups and ODI programming. Prior to COVID I enjoyed attending the social events and happy hours because I got to meet new people, and the events also supported local restaurants and businesses in New Haven. Prior to COVID I also enjoyed all the different cultural events like "Breaking Bread Together: a food tasting experience" where I got to try foods from over 20 different countries. Post COVID I have also enjoyed programming around social equity and justice.
I feel that although COVID has created so much space between us, it has also brought us together. Zoom has shortened distances and if we choose to at a click of a button we can be connected. I love how through my involvement with Future Leaders of Yale and the other affinity group I have been able to stay connected and still have a sense of community throughout the pandemic.
FLY: What changes have been made to your work since COVID-19 started to impact Yale?
Marilyn Serna: There are a few changes that have been made to my job since COVID-19 started to impact Yale. For example, I started working remotely since March 2020 and I have not been to the building since. I like not having to commute because I have extra time for myself and my family in the mornings and in the evenings. Another change that impacted my work is that now everything is digital, and systems and processes take less time, and my work is more productive.
Since COVID, the FLY book club has kept me connected socially. It's not too late to join! Link to book club.
FLY: Tell us about your FLY experience:
Marilyn Serna: I started attending FLY meetings within my first 6 months at Yale and very quickly started running events and became co-chair of the FLY Professional Development subcommittee. Over the last 3 years I have been involved with over 60 FLY events. Because of this experience planning events, I had tangible skills to add to my resume – so FLY has given just as much to me as I have tried to give to it. I love how FLY tries to say YES to new ideas. If you have the drive to get an idea to fruition the group gets behind it.
FLY: As an incoming Co-Chair of FLY, where would you like to see FLY going forward?
Marilyn Serna: I have been happy with FLY's success to date. I hope there will continue to be collaboration, engagement activities people are passionate about, and support for local businesses in the New Haven community. Moving forward, I would like to see more programming that has to with politics and religion and include comradery among the sub committees and among the groups. Ultimately, I would like to see programming remain outside the box; listening to what our members want and find ways to ignite people so they can take their ideas and run with it. My leadership style will be to help when needed and to offer an open space to think creatively.