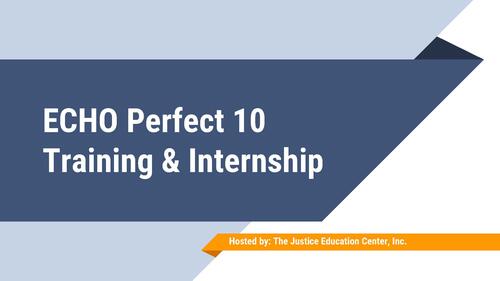 Echo Perfect 10 is a training and experiential learning initiative implemented to prepare high school students and young adults for introduction to workplace culture, nurture interest in a variety of employment opportunities, increase self-confidence and ultimately support successful employment placement.  It is a preparatory employment program comprised of three learning tiers – curricula-based training (Tier I), job shadowing (Tier II), and internships (Tier III) and is available to high school students who reside in New Haven.
 
Yale supports Tier III by providing the following:
 
6-week virtual internship experience
10 hours per week
No cost to the department (paid by the Echo Foundation)
The department is responsible for providing the following:
 
Arrange career conversations within the department
Provide simple virtual assignments (research, social media analysis, presentation support)
Coordinate learning plan
Assign meetings to shadow
Weekly review session
11 students need to be matched. We would like to leverage our resources within the affinity groups to create these opportunities. At a minimum, we are asked to provide five host opportunities.
 
Areas of interest:
 
Law/Criminal Justice/Politics
Psychology/Therapy
Business/Business Management
Medical
Technology
Electrical Engineering/Computer Science
Architecture
Epidemiology
Fine Arts
Marketing/Communications
Finance/Accounting
Photography
Any department interested in participating should contact Fallon.Thomas@yale.edu.