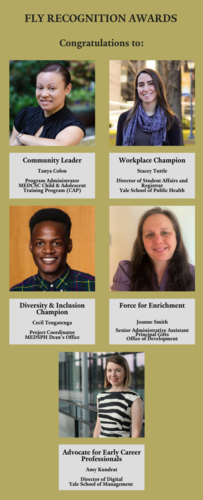 On Friday, June 18, the Future Leaders of Yale (FLY) held an award ceremony to honor the five recipients of the 2021 FLY Recognition Awards: Amy Kundrat, Advocate for Early Career Professionals; Tanya Colon, Community Leader; Cecil Tengatenga, Diversity and Inclusion Champion; Joanne Smith, Force for Enrichment; and Stacey Tuttle, Workplace Champion.
The ceremony, which was held virtually, included congratulatory videos from the awardees' colleagues, friends, and family. Below is a compilation of quotes illustrating the incomparable work of this year's awardees.
Amy Kundrat '21, Advocate for Early Career Professionals
"You give everyone you come in contact with an opportunity to learn about themselves, to discover their talents, and to find new opportunities to grow in their career." - Camila Rubino '21, Executive MBA, Yale School of Management
"It seems particularly apt that we're celebrating Amy as a mentor and as a role model today. For Amy, it's never only about her individual accomplishments. She devotes remarkable effort and care to every member of her team." - Jonathan Weisberg, Managing Director, Communications, Yale School of Management
Tanya Colon, Community Leader
"Tanya, me and you have done countless things for our community, from shelter drives to backpack drives, and I know our work is far from over. Keep on continuing to strive and congrats on this award…our community stands behind you." - Lt. Derrick Meade, New Haven Fire Department
"Every week or two I'd go to her office and there'd be boxes—they could be backpacks for kids starting school. She's involved in many drives. She's organized, efficient, and effective, and the go-to person for the Child Study Center." - Dorothy Stubbe, Associate Professor, Child Study Center
Cecil Tengatenga, Diversity and Inclusion Champion
"They have been a guiding force for me….Specifically, Cecil has empowered me to be my own self- advocate and practice valuing my own time. Cecil consistently looks out for our team wellness; they encourage us to foster our passions that light us up."
"Cecil is adept at connecting groups of people. We have this term on our team—"Cecil Magic"—which refers to their unique ability to build strong, lasting relationships with community partners. I believe the reason these relationships is so positive is due to Cecil's attention to reciprocity." - Ashlin Ondrusek, Postgraduate Associate, Yale School of Medicine
Joanne Smith, Force for Enrichment
"Some of the qualities you're being celebrated for with this award are really quintessential Joanne…. You have been one of the reasons that our team has, year after year, had the highest quality and success, and so much of that has to do with the community that you've helped us build here." - Julie Braverman, Associate Vice President, Office of Development
"Empathy is such a natural part of Joanne and of everything she does…. She'll make sure there are always extra homemade meals in the freezer at work just in case somebody forgets their lunch, and she makes the most beautiful homemade gifts for team members when they're marking major life events.
During the pandemic, she even dressed as Santa Claus and went door to door to families on our team so that their children could have a socially-distanced visit in a hard year." - Julie Super, Program Manager, Principal Gifts, Office of Development
Stacey Tuttle, Workplace Champion
"I count on your pragmatic, compassionate, and collaborative problem-solving…. You are a force to be reckoned with." - Jen Farkas, Director of Financial Aid, Yale School of Public Health
"Not only is she incredibly committed to her students and all of her colleagues, but she lifts all of us up on a day to day basis. She is whip-smart intelligent, she never misses a beat, ever, and she makes it look effortless." - Claire Masters, Program Manager, Yale School of Public Health