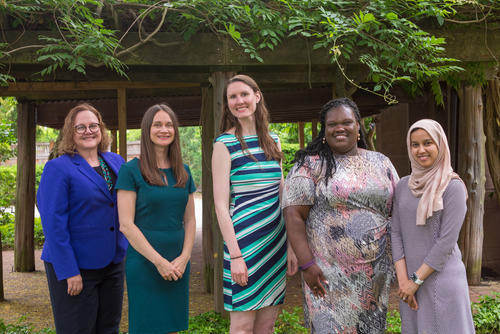 This past year, the Future Leaders of Yale (FLY) affinity group launched a recognition program to celebrate staff members who have made exemplary contributions to the Yale and New Haven community. These awards are an extension of FLY's mission to provide resources and support for Yale staff members in the early stages of their careers as they seek to develop and strengthen their impact at Yale. Over 100 nominations were submitted.
On June 17, Janet Lindner, Vice President for Human Resources & Administration and FLY's executive sponsor, conferred the following awards: Visionary, Advocate for Early Career Professionals, Community Leader, and Rising Star. Please join FLY in congratulating our honorees. (Pictures from there ceremony can be viewed here.)
Katie Hart – Visionary Award
Katie has been at Yale for over ten years and is currently a Senior Administrative Assistant at the Cushing/Whitney Medical Library at the School of Medicine. She was nominated by her supervisor, Robert Hughes.
This past year, the Cushing/Whitney Medical Library was in the middle of a major renovation project that began at the beginning of July 2018 with a scheduled completion date of June 2019. Well before the start of construction, Katie took the initiative to develop a plan for relocating all of the library's furniture. She compiled a list of every item that could be impacted by the project and categorized them. She then oversaw all of the move. As the Library's point person, she coordinated with staff, patrons, and construction crew both directly and through online communications. To quote her nominator, "This was, by far, the medical library's largest construction project in many, many years, and it all went without a hitch because Katie had the foresight to develop her game plan well ahead of time."
Katie also happens to have a second career as a professional singer and regularly sings with CONCORA, a local professional choir. She is also a vocal section leader for the Hartford Chorale and has been a featured soloist with many musical organizations including the Hartford Symphony Orchestra.
Lauren Langford – Advocate for Early Career Professionals
Lauren has been at Yale for over five years and is currently an Assistant Director of Communications at the School of Nursing. She previously worked for the Office of Development for four and a half years. She was nominated by her colleague, Kristin Jones.
Lauren has a core philosophy that she adopted during her time working for the CIA: "If you notice a problem, you've just raised your hand to try and fix it." When Lauren worked in Development as a Program Coordinator, she recognized a significant need for career development, networking, and teambuilding among her fellow Program Coordinators (PCs). As a response, she founded and built the PC & Friends Summer Retreat. She pitched the idea to Development leaders, created a budget and project plan, recruited volunteers and sponsors, and kept overhead to a minimum. Growing in numbers of attendees each year, the 2018 event brought together more than 40 attendees together. It is now in its fourth year. In addition, Lauren chaired the Paw & Explore committee and started the PC & Friends Happy Hour. She is always willing to provide one-on-one mentorship and guidance to colleagues who are early in their careers at Yale. As Lauren's nominator wrote, "Lauren is a superstar, but she shares her light with those around her and isn't diminished by letting them shine as well. Yale is so very fortunate to have her."
Prior to Yale, Lauren worked for the CIA for six years, holding a Top Secret clearance, and she has taken three polygraph exams. Lauren loves to spend the summer sampling lobster rolls on the shoreline, and in her spare time, she enjoys watching HGTV and the Cabot Cove episodes of "Murder, She Wrote".
Fallon Thomas – Community Leader
Fallon has been at Yale for four years and is currently an Assistant Administrator 4 in the department of Orthopaedics at the School of Medicine. She was nominated by multiple colleagues, Teretha Brooks, Heather Ong, Elizabeth Vozza, Danielle Bonagura, friend, Madeline Vega, and former supervisor Maja Gill.
Fallon builds a shared vision for a strong university and New Haven partnership with others and encourages unity and community strength. She can be seen at many events not just as a participant but as a partner in planning. She is tireless when it comes to organizing events, especially those that help others in need. She is successful in recruiting staff and faculty to attend events and reports back to share how others can help.
One of the biggest events of the year that she dedicates endless hours of volunteer time is the annual Yale Multicultural Block Party. She has also led multiple departmental United Way campaign events. She is also co-chair of the Yale African American Affinity (YAAA) group. She always finds time to use her experience at the university and in life to be a role model and inspiration to others. Fallon also exemplifies all the traits of a community leader both in the workplace. She is considered her department go-to and has improved the sense of community there. To quote her colleagues, "Wow, this young lady is a born leader in the community. We need more Fallons!"
Fallon is an avid Patriots fan. She originally wanted to become a History professor, but while obtaining her Master's degree, she started a career path in higher education administration and never looked back. While she is still quite the history buff, she finds fulfillment in mentoring New Haven Public School students for New Haven History Day competitions and serving as a regional judge for Connecticut History Day competitions.
Naureen Rashid – Rising Star
Naureen graduated from Yale College in 2014. She has been working at Yale for two years as a Strategic Analyst in the Office of Strategic Analysis. She was nominated by her colleague, Yuwei Jiang.
Naureen actively seeks out ways to take charge and grow as a leader. In 2018, she took the initiative to learn R, a statistical software, in order to improve her analysis. She found online courses and on-campus workshops to help her do so. She also shared this learning opportunity with the summer intern and made it into something where they both could grow and develop.
Naureen works closely with senior University leadership to translate data, research, and large amounts of faculty and student input into a concrete vision for action and change, especially in her current role supporting the University-wide Committee on Data Intensive Social Sciences.
Naureen pushes herself to take on leadership roles outside of the office as well, being co-chair of Career Development for the Asian Network at Yale and serving on the Board of Directors for New Haven Reads. Naureen is also an excellent mentor to staff and is a resident fellow for Grace Hopper College, where she mentors and advises first year students on academics and creates a warm environment for them by organizing fun study breaks and group events. To quote Naureen's nominator, "Her passion for Yale and education, her acute sense of giving and helping others, and her motivation to lead and make a strong impact in the community truly make Naureen a rising star and an inspiration to those who are around her."
Naureen has a black belt in tae kwon do, loves to travel and has been to over 20 countries so far. She can speak five languages.