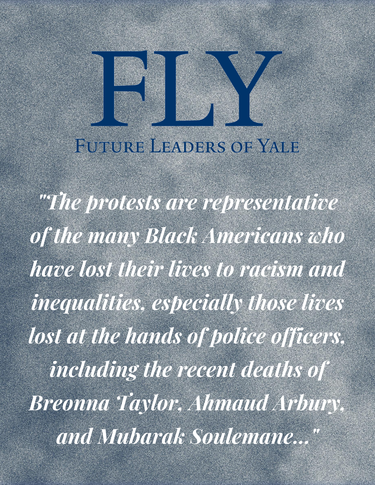 In light of the recent painful events happening in our country and in our communities, the Future Leaders of Yale (FLY) acknowledge that this current time has been emotional and difficult for so many of us. Last month, protests in New Haven, and all over the world, began after the killing of George Floyd in Minneapolis. The protests are representative of the many Black Americans who have lost their lives to racism and inequalities, especially those lives lost at the hands of police officers, including the recent deaths of Breonna Taylor, Ahmaud Arbury, and Mubarak Soulemane. 
 
We express our solidarity with those who bravely engage in peaceful protests across the country, share resources explaining the need for individual and systemic change, and with those allies who spread positivity to all those around them during this emotional and historical time. 
 
FLY was created to recognize the challenges unique to all professionals at the beginning of their career trajectory, and to cultivate a community where members feel safe discussing their ideas and needs. FLY is committed to listening, to learning, to getting to know you, to being active allies by addressing individual and systemic racism, as well as promoting inclusion, and increasing programming on equality. 
 
We encourage our members to think of actions to combat inequality, and to discuss implicit bias at work, in our communities, and in our daily lives. We look forward to working beside you to create a better future in the days to come.