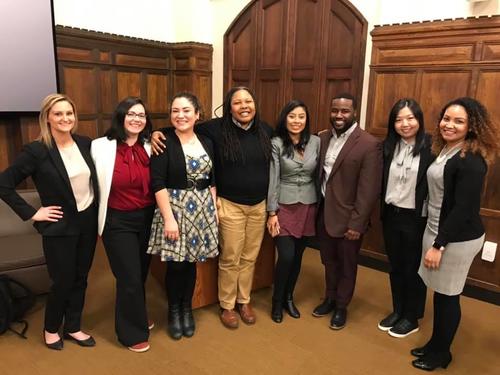 Future Leaders of Yale (FLY) is seeking volunteers for the FLY Lean in Mentorship Program committee this upcoming academic year.
About FLY Lean In Mentorship program:
The program offers a series of 4-5 panel discussions focused on career development topics for FLY members. Featured guest mentors represent various areas from across the university and all levels of employment. We generally have 75 – 100 guests attend each panel discussion.
Leadership Volunteer Opportunities:
We currently have open volunteer leadership opportunities to join the FLY Lean in Mentorship Program committee. Committee members will be asked to lead and plan one mentorship panel session this academic year. It is a very light workload averaging a few hours per week at most for the weeks leading up to the session. Committee members will be supported throughout the planning process by FLY Lean in Mentorship Program co-chairs Angelina Stackpole and Lauren Hunt and the FLY leadership team.
If you agree to lead a session, you will:
Work with a partner or two to plan and execute the session – you will be given a budget to work with.
Identify potential guest mentors and plan questions for your panelists.
Organize room, food, AV etc. for the session (sessions are scheduled 12-1:30pm; you choose the date) .
Work with FLY leaders to advertise the session.
Moderate the session!
To present a cohesive and well-rounded series of sessions, the program co-chairs will:
Come up with some very general topic ideas using the great feedback we received from past surveys and FLY members. It will be up to you and your partner to develop one of these ideas into a session that fits with the FLY Lean In Mentorship model.
Coordinate with each team so that diverse guest mentors are invited for each session and potential mentors are not invited twice by different groups.
Manage our partnerships with other affinity groups. The co-chairs will reach out to invite other affinity groups to partner with us on panel discussions.
If you'd like to take on this great opportunity to lead on behalf of FLY, please click here to contact Angelina Stackpole and indicate which session(s) listed below you would prefer to organize by Wednesday, August 21st. Pick all options that works for you.
Please don't hesitate to contact Angelina Stackpole at angelina.stackpole@yale.edu or 203-432-7724 if you have any questions. If you know fellow FLY members who would also like to take part, let us know!
Topic

Focus

Expected Date

Crafting your personal brand

o Identifying skills and weaknesses
o What do you want to be known for
o Pursuing opportunities that align with your brand and saying no to those that don't
o Setting yourself apart from others
o Elevator speech
o Positioning yourself online (LinkedIn)
o Personal brand on social media for furthering your career / connecting

Sep-19

Creating your career network

o Finding a mentor
o Defining the difference between coaching, seeking advice and mentorship
o Building a successful mentor / mentee relationship
o Opportunities for networking
o Identifying goals for building relationships
o How to reach out, follow-up

Nov-19

Positioning yourself as a leader

o How to gain leadership experience outside of your daily work
o Identifying goals for leadership position- what do you want to get out of it/ how will it build your career
o Opportunities within department and university wide
o Having conversation with manager
o IDP (Individual development plans)
o Finding time to manage leadership roles
o Board opportunities in new haven / volunteer opportunities / networking opportunities

Jan-20

Pursuing advancement

o When is the right time to pursue advancement
o Identifying the right opportunity
o Discussing with manager
o Career resources at Yale
o Negotiating
o Going through the internal process – what to do / not do

Mar-20

Etiquette in the workplace

o Email etiquette
o Social media etiquette
o Technology etiquette (phones in meetings, etc.)
o Emotional intelligence
o Resolving conflict with peers
o Having difficult conversations with manager

May-20

Resilience

o Failing well
o Dealing with setbacks

Jul-20