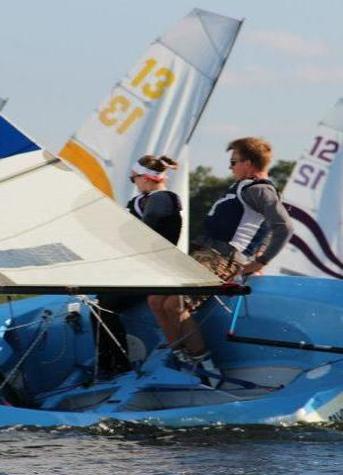 NEW LONDON, Conn. – The No. 1 Yale coed sailing team placed second at the New England Team Race Championship this weekend at Connecticut College, earning a berth to the ICSA Team Racing National Championship this June. The Bulldogs also placed eighth at the Mystic Lake Team Race Invitational hosted by Tufts.
The breeze was incredibly unstable on the Thames River this weekend. Throughout Saturday, the race committee ran races with wind coming from all possible directions. Sailing most of the way through the first round robin, the Bulldogs finished Saturday tied for second with Tufts, one race behind first-place Roger Williams.
The complete round robin was then finished on Sunday in a light Westerly. The breeze then shifted to the Southwest and picked up to approximately 12 knots for the top six. With only four teams qualifying for the national championship, all of the racing was tight. Yale beat Boston College, Dartmouth, Harvard and Tufts in the final-six round robin.
Going into the final race against Roger William, Yale had solidified its place at Nationals. However, the winner would claim the title of New England Team Race Champion. After a poor start and a difficult leeward mark rounding, Yale lost to Roger Williams. Both teams finished the regatta with a 13-3 record, but Roger Williams won the tiebreaker, leaving the Bulldogs in second place.
Sailing for the Bulldogs this weekend was senior skipper Chris Segerblom with sophomore crewCharlotte Belling, junior skipper Graham Landy with crews senior Eugenia Custo Greig and junior Katherine Gaumond, and freshmen duo skipper Ian Barrows and crew Meredith Megarry. The team is confident that with the rest of the spring to train, Yale will be even stronger by Nationals.
At the Mystic Lake Team Race Invitation, the underclassmen of the Yale sailing team were able to team race as well. Skippers sophomores Eric Anderson and Marly Isler, and freshman Mitchell Kiss, and crews sophomores Emily Johnson and Megan Valentine and freshman Clara Robertson sailed to an eighth place finish, with a 4-14 record. The Bulldogs improved greatly during the weekend, earning most of their wins in the second half of the regatta. Yale took wins off of Boston College, Boston University, Bowdoin and Harvard.
The team racing season now ends, with the rest of the spring will be devoted to fleet racing. Next weekend, Yale will sail for the Oberg Trophy, the Owen Trophy at home, and the Thompson Trophy.
Report filed by Katherine Gaumond '15, Yale Sports Publicity