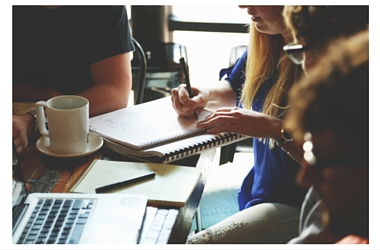 As a follow up to this year's Yale CareerConnect 2016, FLY members were invited to attend a special pilot workshop of "Job Crafting: Turning the Job You Have into the Job You Want" on May 10.
The experiential workshop is based on Yale School of Management professor Amy Wrzesniewski's research on job crafting, which is a process through which individuals shape and redefine their jobs to make them more meaningful. Participants completed a job crafting exercise to uncover insights into their own unique values, strengths, and passions. They then learned how to utilize this information to reshape their current role or how they think about their job.
Aja Dubose in Office of Diversity & Inclusion attended the workshop and shares her review:
At this point in your career this pilot that Organizational Effectiveness & Staff Development (OESD) offered would be an amazing help. Job crafting seems like a simple idea but what makes it a really powerful tool is that it allows you to increase the control you have over your own professional life while "wowing" your employer at the same time. Practically any job can be crafted, at least to some extent, and you can start whenever you want.
The workshop provided ideas on improving the way that things are done using skills that you already have, or using your knowledge to change working methods so that you can generate better results. You can also redefine your existing work to reflect what you see as being the real impact of what you do at work. Effective job crafting usually depends on finding a win-win solution. In job crafting, you take the initiative. Although you won't be able to redefine your job completely, you will feel more satisfied. 
Job crafting is something that you decide to do in order to change aspects of your current job so that it suits you better. This is an outstanding workshop and I highly recommend it if you are able to attend.
Stay tuned for future offerings of this workshop.
Related:
Employees learn importance of job crafting, career owning at Yale CareerConnect 2016
Video: Job Crafting - Amy Wrzesniewski on creating meaning in your own work
Crafting a Job: Revisioning Employees as Active Crafters of Their Work