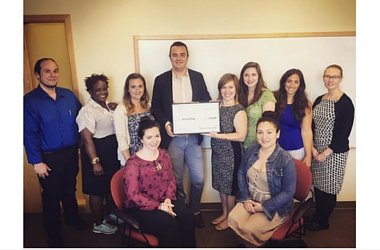 FLY was busy in the community these past couple months. Here's what we've been up to! As always, if you know of an event where FLY can help–from fundraising to volunteering–contact us at fly@yale.edu. 
April 15: Relay For Life
Team FLY raised $1,285 and placed second in the campus-wide fundraising event held at Payne Whitney Gym. They won a breakfast and meeting with Dean of Yale College Jonathan Holloway. Relay For Life events are the signature fundraiser for the American Cancer Society. 
April 16: 12th Annual New Haven AIDS Walk & 5K Fun Run
Members from all seven of Yale's affinity groups joined the New Haven community for an annual fundraiser that supports the eleven organizations of the New Haven Mayor's Task Force on AIDS. The walk started from the New Haven green and featured live performances by Yale and community groups.
April 28: Dining Out for Life
Joined by Yale's Deputy Chief Communications Officer Michael Morand and Chef/Owner Claire Criscuolo, FLY members enjoyed a smoothie happy hour at Claire's Corner Copia. Proceeds went to Dining Out for Life, an annual dining fundraising event that raises money for AIDS service organizations.
May 10: Junior Achievement (JA) Bowl-a-thon
Team FLY showed off their bowling skills at JA's annual bowl-a-thon fundraiser and networking event. To date the event raised $ 12,510, which will allow more than 250 students in the New Haven Area to participate in Junior Achievement programs at their schools. FLY would like to thank the Office of Diversity and Inclusion (ODI) for their generous support.
May 12: United Way of Greater New Haven Fundraiser Ceremony
At their monthly meeting, FLY's steering committee members were joined by representatives from United Way of Greater New Haven. FLY presented a check for $550 from the proceeds they raised at their winter social during UW's 2015-2016 campaign.
May 12: NAACP 99th annual Freedom Fund Dinner dinner
The theme of this year's annual NAACP fundraiser dinner was "Pursuing Liberty in the Face of Injustice". Susan L. Taylor, founder and CEO of the National CARES Mentoring Movement and editor-in-chief emeritus of Essence magazine, served as keynote speaker during the event. "The village is on fire and we are the healing waters," she declared. Attendees were encouraged to post selfies tagged with #stopinjustice.