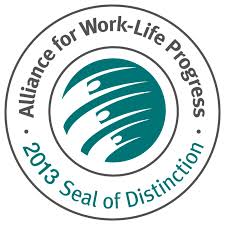 The work-life programs, policies, and practices currently in place at Yale have garnered recognition once again by the Alliance for Work-Life Progress (AWLP). The organization's Seal of Distinction is bestowed annually on employers who demonstrate leadership in workplace strategies and practices to help employees achieve success in balancing their work and home lives.
Applicants were evaluated based on the breadth and depth of their work-life offerings, and had to provide examples of their support in areas spanning dependent care, health and wellness, workplace flexibility, financial support, paid and unpaid time off, community involvement, and efforts to transform organizational culture.
"On behalf of World at Work's Alliance for Work-Life Progress," says Jessica Starr, Senior Project Liaison, "I would like to commend Yale University for providing a wide variety of workplace policies, programs, and practices that support employees across all major aspects of work-life integration." 
Says Mike Peel, vice-president for Human Resources & Administration, "I am thrilled that Yale's work-life offerings have received this award for the second year in a row.  We know how difficult it is in this era for our faculty and staff to balance all of their professional and personal obligations, and we are committed to providing the maximum support we can to assist".
Yale is one of 66 U.S. employers recognized by AWLP in 2014 for a best-in-class, work-life portfolio.