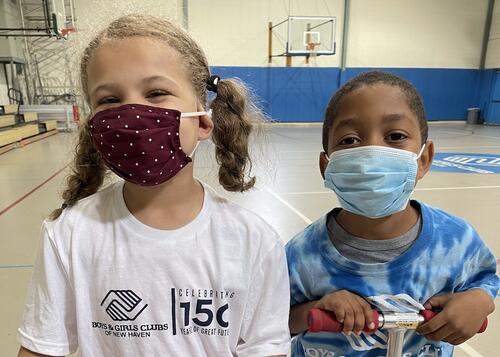 Celebrating 150 years of service, the mission of the Boys & Girls Club of New Haven (BGCNH) is to enable young people to reach their full potential as productive, caring, responsible citizens. This exciting milestone was marked by a historic visit from Vice President Kamala Harris to their Columbus Avenue Clubhouse.
Founded in 1871, BGCNH is the third oldest (and longest continuously running) of more than 4,000 Boys & Girls Clubs nationwide. Generations of families have counted on the Club to inspire their kids to be the very best they can be, and it has been a second home to thousands of New Haven children and teens.   
BGCNH is known for its fun summer camp, safe after school programs, and great sports. They build the character of every child who walks through our doors. New Haven children and teens benefit from professional caring staff who use the Boys & Girls Club of America's proven approach to youth development.
In response to the COVID-19 pandemic, BGCNH reimagined its afterschool program to provide New Haven's largest, full-day, on-site Learning Hub. During the 2020/2021 school year, 72 children successfully and safely accessed their remote learning and homework help with the support of BGCNH staff, and enjoyed after-school enrichment and fun with peers. Their parents went to work knowing that their children were learning, cared for, and spending time with friends.
Email BGCNH at kidscomefirst.org if you would like to volunteer at the Club. While there are limited in-person opportunities due to the pandemic, the BGCNH team is very interested in hearing from community members who want to get involved.
You can also support the Boys & Girls Club of New Haven Backpack & School Supply Drive that will take place through Sunday, August 15th. More information can be found at: https://fly.yale.edu/events/backpack-school-supply-drive