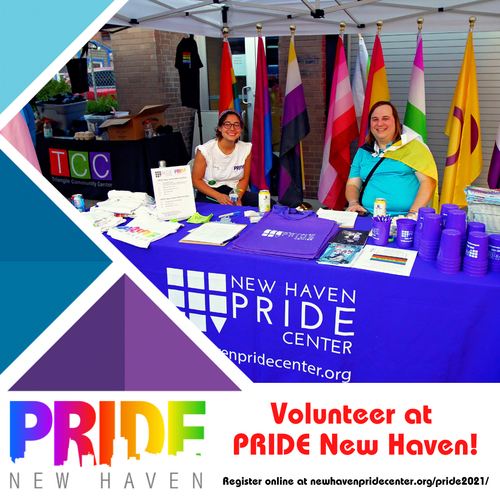 The New Haven Pride Center (NHPC) is an organization that provides educational, cultural, and social enrichment for the LGBTQ+ community, its allies, and members, to make a positive contribution to the entire community of Greater New Haven. NHPC offers arts, culture, and humanities programming, performances by LGBTQ+ artists, art exhibitions featuring LGBTQ+ arts, support and social groups, in-depth panels and conversations with community leaders, queer authors, and more! 
The main volunteer opportunities for the month of September are the PRIDE New Haven events that will take place from Sunday, September 12th - Sunday, September 19th, with Saturday, September 18th being the day that they will need the most volunteers.
PRIDE New Haven is a visible infusion of LGBTQ+ celebratory programming that highlights the culture, art, and history of New Haven and Connecticut's LGBTQ+ community. Through a high-visibility series of events, PRIDE New Haven turns downtown New Haven and surrounding towns into a community-wide safe space for New Haven and Connecticut's vastly diverse LGBTQ+ community.  
Be a part of the team of volunteers that makes PRIDE New Haven happen! You can register here to be a volunteer for that day.
If anyone is interested in volunteering on other days, please send an email to Laura Boccadoro, PRIDE Associate Producer at: pride@newhavenpridecenter.org.  
You can read more about the New Haven Pride Center at: https://www.newhavenpridecenter.org/about-us/.