Mela Toro Waters
Co-Chair of Future Leaders of Yale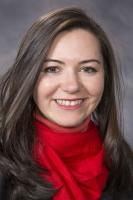 I am excited to work alongside many leaders within our young professional group. I believe in our mission to provide professional development, mentorship and social networking opportunities to our members. 
Mela Waters is a training coordinator at the Yale Center for Emotional Intelligence. As part of her role, she organizes leadership development conferences for school leaders and RULER training events for educators in order to create emotionally intelligent schools. Mela holds a certificate in Executive and Organizational Coaching from New York University. Under Dr. David Caruso, she received training in the Mayer-Salovey-Caruso Emotional Intelligence Test (MSCEIT). Mela is currently enrolled in the Industrial/Organizational Psychology masters program at University of New Haven. She has a B.A. in Graphic/Information Design and a M.S. in Educational Technology. 
Mela enjoys co-chairing Future Leaders of Yale (FLY) affinity group, where she coordinates professional development trainings and facilitates the FLY Mentorship Program for Yale's young professionals. Beside coaching millennials and leading group coaching sessions, she has presented on topics such as "Leading Millennials in the Workplace", "Establishing a Mentoring Relationship", "Designing Your Year", etc.