Rob Cioffi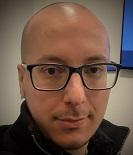 FLY: Tell me about your current role at Yale University.
Rob Cioffi (RC):  My job title is IT Support Technician for the Yale School of Management (SOM). With that, my main job duties are to work through tickets that come into IT along with the rest of my team, as well as complete IT related tasks for intake and exits of new faculty and staff. I also provide personal IT support for the Dean of SOM.
FLY: How did you begin your career?
RC: I earned a degree in graphic design and began my work in tech at Best Buy and then the Geek Squad. From there I worked at Xerox for a couple years and through a search found this position in IT at SOM. I have now been at Yale for nearly three years.
FLY: What skills, abilities, and personal attributes are essential to success in your job?
RC: Beyond having the technical abilities to complete the tasks, I would say it is important to be a people person. You are constantly working with staff members on your team as well as different faculty and staff across all of SOM. Given the nature of the job it is also important to be good at prioritizing tasks so that everyone has what they need in a timely manner. Finally, I would say it is important to be able to converse in layman's terms so that anyone can get what they need regardless of their level of technical proficiency.
FLY: How does working for Yale compare to previous institutions at which you've worked?
RC: Yale has been great because it seems as though everyone is on the same page. Everyone wants to work their hardest to advance the mission through their own areas of responsibility.
FLY: What non-work-related aspect have you enjoyed most about the Yale community?
RC: I have come to love the community. It seems that there are so many like-minded people that it has been easy to make friends that have similar interests. There is also always so much going on at Yale that you can always find fun and interesting events to attend.
FLY: What changes have been made to your work since COVID-19 started to impact Yale?
RC: Honestly, the transition has been largely smooth. There is obviously no face-to-face, but we are still receiving tickets through our system and working on projects. We communicate well through Slack and Zoom as a team and have not had issues interacting with faculty and staff. If there are issues with equipment, they are mailed in and worked on and sent back out.
FLY: What challenges and successes have you experienced in your work since COVID-19?
RC: Now everything is running smoothly, but there was a challenge in the beginning to get everything up to speed during spring break. We made sure everyone had access to and an understanding of Zoom as well as any equipment they need to conduct business remotely. I think a great success was seeing how our team was able to rally and minimize hiccups in the transition as much as possible.