Sarah Pietryka Tucker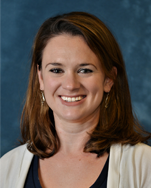 FLY: Tell me about your current role at Yale University:
Sarah: I am fairly new to Yale, beginning my position here in April of this year. I work as an Assistant Director in the Undergraduate Financial Aid Office. In this role, I work with Yale undergraduate students and their families in the financial aid process, which often begins as early as when a student considers applying to Yale and continues until they graduate. This allows me to build strong connections with students and their families, which is something I really enjoy.
FLY: How did you begin your career?
Sarah: I began my career in financial aid in the Financial Aid Office at Weill Cornell Medicine in New York City. At the time, I was not sure what direction I wanted my career to go in, but almost immediately after beginning the position, I knew it was a field I wanted to stay in, so I began to learn more about the financial aid process and build my skills and knowledgebase. Since that time, I have also worked in the Financial Aid Office at Wesleyan before beginning my position at Yale.
FLY: What skills, abilities, and personal attributes are essential to success in your job?
Sarah: I strongly believe in the idea that kindness counts, and I think having this mindset is critical to my job. Education and finances are two things that are very important to most people, and when they combine, conversations can become very emotional or stressful, as there is a lot at stake, so approaching people with kindness and empathy is really important. What I love most about my job is that in a small way, I am helping make someone's education possible, and assisting the future leaders and change makers of the world, which is tremendously rewarding.
FLY: How does working for Yale compare to previous institutions at which you've worked?
Sarah: Something that I was instantly struck by, even during the interview process for my position, was how welcomed I instantly felt by the Yale community. Being that Yale is such a large and renowned institution, I was not sure what to expect. This feeling of being welcomed and of belonging has only grown during my time working for Yale. The opportunities for personal and professional growth through the Affinity Groups like FLY are also truly incredible and unique at Yale.
FLY: What non-work-related aspect have you enjoyed most about the Yale community?
Sarah: Being that I began during the pandemic, I have not been able to take as much advantage as I would like to of the museums, libraries, and performances offered at Yale, but I have done virtual events such as online exhibitions at the Beineke and a tour of one of the collections of dinosaurs at the Peabody, which have been terrific. When I am in the office, I always take a walk to a different spot on Yale's campus. I am always struck by the beauty of the buildings, so have really enjoyed just taking advantage of being on campus when I can!
FLY: What changes have been made to your work since COVID-19 started to impact Yale?
Sarah: COVID-19 significantly changed how people in the financial aid field work. Prior to COVID, very little was done virtually since it is a job that is student-facing, so we needed to adapt the way we work very quickly. There are tremendous benefits of getting to connect with students and families in-person, but COVID has illustrated that we can provide a high level of service virtually, and one benefit of that is having the ability to connect with families thousands of miles away, who, prior to the pandemic, we would not have had much interaction with because of distance. I hope that virtual platforms like Zoom continue to be used in this way once the pandemic is over.