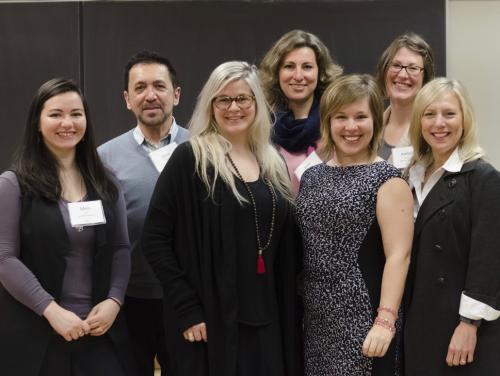 Congratulations to our mentees and mentors for completing
Future Leaders of Yale Mentorship Program 2015-2016!   
This year's program helped pair 15 mentees with 15 mentors, who were selected by the mentees themselves. We met four times this year as a group and recommended that pairs meet individually every month, either in person or virtually. Mentees were empowered to drive the mentorship relationship.  
In our group sessions we talked about the best practices of mentoring, tools such as GROW Coaching Model and Mentoring Action Plan (MAP). Mentees and mentors were engaged in trust-building activities and got to open up and share personal stories, perspectives and suggestions during our group mentoring. Mentees loved the safe place, where they felt courageous enough to speak up and take action. Feedback from the participants was collected half way through the program to identify obstacles, progress, and feedback on improving our sessions. During our graduating session on May 6, everyone reflected on the lessons they had learned, acknowledged their progress, and shared gratitude for the connections they made throughout the year.  
Feedback from the 2015-2016 FLY Mentorship Program 
Mentors:  
- I have found the program to be completely beneficial.  It is a joy to be able to leave my office and focus my attention on the development of another.  Dedicated time to coach, advise, and guide are mutually beneficial.   
- I have found it valuable to be a mentor because it allows me to develop my coaching skills.      
Mentees:  
- It has been amazing to have someone whom I respect so much investing in me, both as a scholar and a person. Hearing her story of how she chose her career path and learning from her wisdom has been invaluable as I am still negotiating my professional identity. My mentor has helped me believe in myself and value what it is I have to offer.   
- Super nice and supportive! My mentor has been such a wealth of knowledge in terms of career and personal advice. I can't speak more highly of her and this program!  
- I am incredibly grateful for the program. I appreciate the opportunity to connect with my mentor who I may not have gotten to know otherwise, as well as my peers and their mentors. The structure has been invaluable in providing icebreakers, relationship building exercises, and accountability. Big thanks to the team leaders who have done a great job building and executing this program.  
- The overall value that I have found participating in this pilot mentorship program has been high.  My involvement in the program gave me the momentum to not only set goals but to develop a plan to achieve them.     
We are looking forward to an information session and a mentoring networking event coming up this summer for more young professionals that are interested in our next year's mentorship program starting this fall. Keep an eye out for these upcoming events and the  2016-2017 Mentorship Program Inquiry Survey!  
The FLY Mentorship Committee