Co-Chair, July 2022 to June 2024
Assistant Director of Leadership Giving, Office of Development 
I started working for Yale in January 2020 and attended my first FLY event within my first month. In the spring of 2021, I increased my involvement with FLY through serving on the Communications subcomittee. I became a co-chair of the subcomittee in October 2021 and enjoyed building a stronger FLY brand via social media and monthly newsletters. I then served as FLY's co-chair elect from January to June 2022 before transitioning to a full co-chair role in July 2022. FLY has allowed me to build meaningful connections with colleagues across Yale and has helped me to develop leadership skills as well as other professional and personal benefits. I am honored to be serving as a co-chair and look forward to helping FLY strategically grow and continue to meet the needs of its members. 
As a Leadership Giving Officer, I work closely with Yale College alumni to encourage their philanthropy and connection with Yale. I earned a  bachelor's degree in Communications and a master's degree in Public Adminstration from Penn State. In my spare time, I am a board member of the Junior League of Greater New Haven and I enjoy snuggling with my cat and explorting Connecticut with my fiance. 

Co-Chair, July 2021 to June 2023
Senior Administrative Assistant, Yale Law School
I started attending FLY meetings within my first six months at Yale. I quickly started leading events, and became co-chair of the FLY Professional Development subcommittee. I am extremely grateful to FLY because being an active member has allowed me to acquire skills that I would not have otherwise obtained at my job. I have also met incredible people from all over campus. Additionally, I feel very fortunate to be part of FLY and continue its legacy. FLY gives early career professionals a voice and endless opportunities to learn and grow.
Currently, I am a senior administrative assistant at the Law School, and I work with five faculty, including former Dean Robert Post. I am also currently working to become a Certified Nutrition Specialist through my graduate schoolwork. Upon completing my degree and passing board certification, I hope to combine functional and integrative approaches to nutrition.
---

Nicole Ginolfi Tull
Co-Chair, July 2020 to June 2022
Program Coordinator for Engagement and Campaign Initiatives, Office of Development
I joined Yale back in 2018 and quickly became involved with FLY soon after. (I even attended my first Steering Committee meeting during my first two weeks here!) FLY has allowed me to expand my network outside of my department and build meaningful connections with other early career professionals across the university. I am honored to be in a position to help FLY continue to grow and develop their vision. As a program coordinator in the Office of Development, I work closely with the campaign planning team, focusing on volunteer structure, management, and engagement. Before Yale, I worked as a Family Care Specialist/Summer Camp Director with the Muscular Dystrophy Association. I enjoy running races, Zumba, and playing with my energetic Rottweiler, Ava, in my free time.
---

Allyssa Antunes (Emeritus)
Co-Chair, January 2020 to June 2021
Instructional Designer and Developer, Environmental Health and Safety
I attended my first FLY event in 2015 and have actively been involved on the steering committee ever since. FLY has provided an outlet for me to step outside of my shell while meeting new people, giving back to the community, and continuously learning. I am committed to supporting my peers with resources and knowledge needed to create unique paths at Yale University, and beyond. I joined Yale University in 2014 and held positions in the Department of English and Office of Development before joining Environmental Health and Safety. As an Instructional Designer and Developer with EHS, I develop online training courses to promote safe work practices. I earned a B.A. in Public Relations and a M.S. in Instructional Design, both from Quinnipiac University. In my spare time, you can find me traveling, taking photos, or competing in Spartan obstacle course races.
---

Celestina Gentile (Emeritus)
Co-Chair, January 2019 to June 2020
Recruiter, HR Staffing
I have been involved with FLY since its beginning in 2014 and I am passionate about helping young professionals find a voice at Yale and help them create long-lasting careers at the University. I also love connecting FLY members from all over campus, especially helping newer staff to build and expand their networks. I am a Recruiter in the HR Staffing Office where I support hiring and career development initiatives for the University. I have been recruiting at Yale since 2008 and previously worked for People's United Bank. I earned my Masters of Business Administration in Management from Sacred Heart University and Bachelor's degree from Eastern Connecticut State University in Marketing. I enjoy spending time with my husband, Steve, travelling, yoga, wineries, and being outdoors any chance I can get.
---

Katie Rowe Glynn (Emeritus)
Co-Chair, January 2018 to January 2020
Principal Gifts Program Coordinator, Office of Development
I have been at Yale since 2009 and have seen how the young professionals community at Yale has thrived with the addition of FLY in 2014. It is an honor to serve as co-chair and to create programming, opportunities, and resources for my peers. The connections I have made through FLY are invaluable, and I hope that others feel the same. Currently I work as a program coordinator in the Office of Development, supporting fundraisers with writing and research projects. My previous roles at Yale were at the MacMillan Center and the Office of International Affairs. In my free time, I enjoy reading, cooking, yoga, and trying out new restaurants. 
---

Patrick O'Brien-Sevilla (Emeritus)
Co-chair, January 2017 to January 2019
Communications Officer, Poorvu Center for Teaching and Learning
---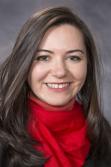 Mela Toro Waters (Emeritus)
Co-chair, January 2016 to January 2018
School Relations and Training Manager, Center for Emotional Intelligence
---

Alina Nevins  (Emeritus)
Co-chair and Co-founder, January 2014 to January 2017
Assistant Director of Information Technology, Office of International Students and Scholars
---

Becky DeSalvo (Emeritus) 
Co-chair and Co-founder, January 2014 to December 2015
Former Director of Enrollment Management and Diversity Initiatives, School of the Environment